Theatrical & Draping Hire Perth
We have all of your theatre production needs in Perth including lighting, draping/curtains, staging, audio and more plus the team to make your production come alive.
At Matrix Productions we have an extensive range of traditional fresnels, profiles and followspots to wash your stage and highlight performers. We also stock a large number of LED fixtures including both static and moving lights for their added flexibility and colour range, not to mention their lower power usage.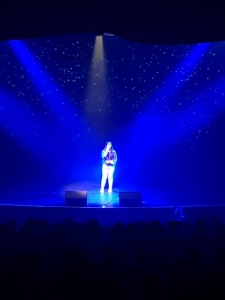 We can provide a number of options with regard to the hire of audio equipment, including speakers, mixers, corded and wireless microphones and full PA systems.
Our technicians can deliver and install all production equipment and can also operate the event as needed.
Our draping inventory is one of the largest in the state as we can even drape out entire gymnasiums to really transform the room.
If you are looking to purchase curtains, drapes, lighting or any other equipment then we can also assist in this area as we have an extensive range of suppliers to provide excellent pricing. For draping installations we can visit you onsite at no obligation to measure up and provide a quotation.
One other service that we offer is to clean, service and test and tag your existing lights to ensure you get the most out of the equipment that you have and that they are all electrically safe.
Please contact our helpful team on 9371 1551 or via our online enquiry form located on the right hand side of this page.
Our equipment only prices are able to be viewed here - Hire Equipment and Draping Pricelist